Current price on sq.m. in Tbilisi ($)
Price change per sq.m in Tbilisi ($)
For Sale 200 m² Private House in Ortachala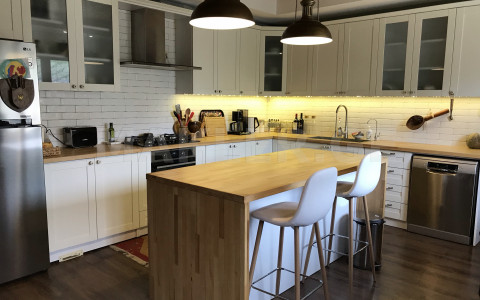 For Sale:
1111495 / 5557.48 m²
Address:
Tbilisi, Ortachala
Additional information
Storeroom,
Walk-in closet,
Furniture,
Built-in furniture,
Dishwashing machine,
Internet,
Cable TV,
Window guards,
Generator,
Energy efficient house for sale in a very prestigious area, located just 10 minutes away from Freedom Square. House area is 200 sq. m. with a total yard area of 730 sq. m. House is equiped with a modern energy efficient technologies: 1. Solar energy panels; maximum pick rate - 5 kilowatts. 2. Canadian air recupiration system which lies underground to constantly bring a fresh air in the entire house. 3. Central heating system. 4. Canadian central vacuum system. 5. 5-level wwater filtration system. The front part of the yard is made with a high quality stone. The backyard is ready to be used as a garden. Garage door is equiped with a Spanish remote control system; the main entrance door is equiped with an Italian closing mechanism along with a video door-bell.
Contact Person
Mari Danelia
Office manager
+995 32 2471020
+995 599 428844
m.danelia@makler.ge
მსგავსი განცხადებები