Current price on sq.m. in Tbilisi ($)
Price change per sq.m in Tbilisi ($)
For Rent 430 m² Private House in Saburtalo dist.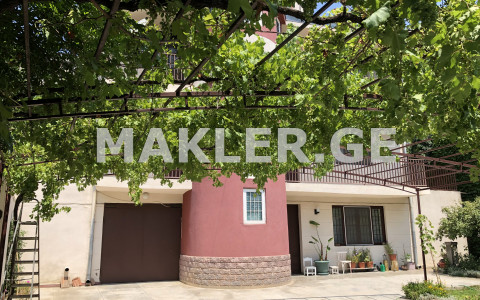 Address:
Tbilisi, Margiani st., Vazha-Pshavela, Saburtalo
Additional information
Jacuzzi,
Storeroom,
Walk-in closet,
Built-in furniture,
Dishwashing machine,
Phone,
Internet,
Cable TV,
Security Systems,
Window guards,
Generator,
House for rent. Yard is 600 sq.m, house is 430 sq.m. Totally three floors. On the first floor is located a garage, a room with fireplace and a small storage room, a toilet, pantry room, room with a water tank and a heating boiler (boiler works on diesel and gaz) On the second floor there is a guest room with fireplace, kitchen, bathroom (with Jacuzzi) and toilet, cabinet and two balconies. The back yard has two exits. The third floor has the hall, four bedrooms and toilet with shower. The laundry room is located on the back side of the yard. The house is equipped with 5 air conditioners.The automatic diesel generator is installed in the yard. The alarm system is installed as well. Yard is with a well-groomed greenery .
Contact Person
Keti Nikolava
Office manager
995322471020
995599428844
keti.n@realtor.ge
მსგავსი განცხადებები